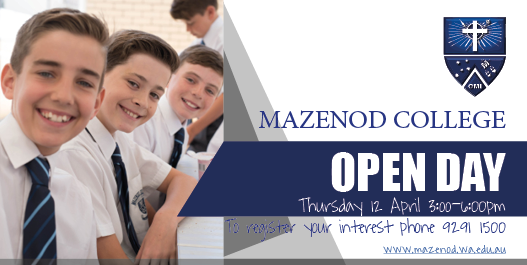 Mazenod College opens its doors to the public on Open Day each year. All interested families are very welcome to attend. Guided tours of the College and Boarding House are conducted by students and begin at 3:30pm.

Open Day – Thursday 12 April 2018 from 3:30pm – 6:00pm

We encourage interested families to attend the Open Day as all departments have demonstrations and activities for prospective students to be involved in. Visitors can sit and enjoy afternoon tea provided by our 'Mazza Mums' while listening to the various student bands and ensembles.

Country Field Days
Information about the College is also available at Country Field Days. Come and visit us at the following events located in the Education Marquee at:
Wagin Woolarama (9 -10 March)
FeNaCING, Karratha (4-5 August)
Dowerin (29 - 30 August)