To begin the year, parents will have noticed that iGloo has not been updated with this year's timetable. This is not an error; rather, it is because Mazenod is in the process of releasing SEQTA.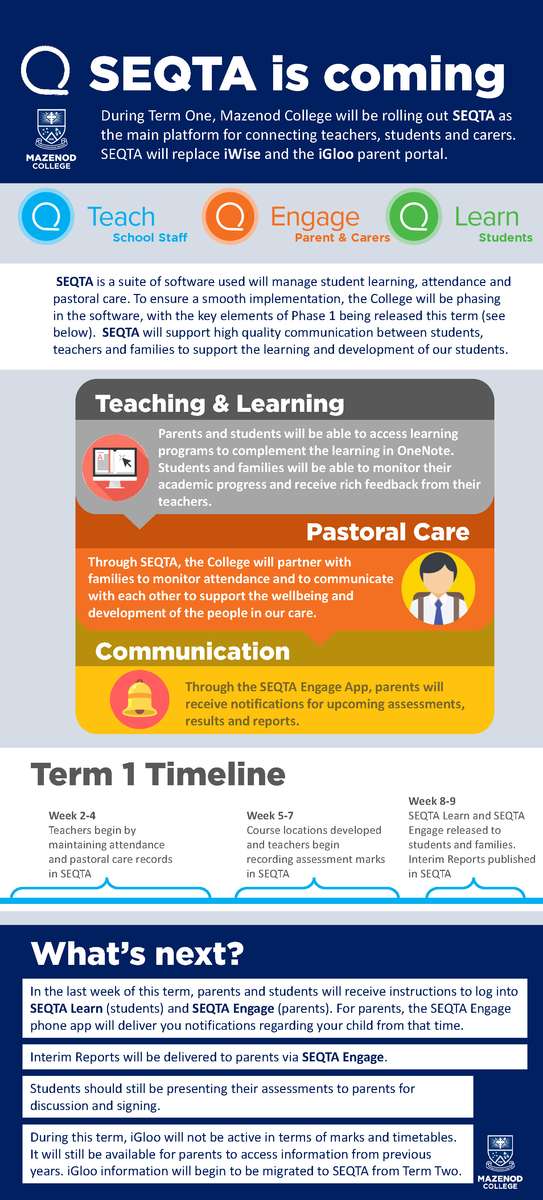 SEQTA is a suite of software that brings together learning, pastoral care and
communication in a way that is effective and convenient for families and for students.
What are the features of SEQTA?
SEQTA is a suite of software with three keep apps: Teach, Learn and Engage.
SEQTA Teach is where teachers will record marks, monitor attendance and keep records to support the pastoral care of our students.
SEQTA Learn is where students will access learning programs to complement their learning in OneNote and where they will monitor and reflect on their own academic progress. As our implementation of SEQTA develops, student voice will become a feature of student learning and assessment through rich feedback and reflection.
SEQTA Engage is where parents and carers will be able to keep up to date with their child's learning. Parents will receive notifications when assessments are scheduled and when marks are released. Additionally, student reports will be accessed through SEQTA.
What you can expect while SEQTA is being readied?
The move to SEQTA will mean that iGloo won't be updated with assessments and reports in the first half of this term. Families will still be able to log in to iGloo to see previous years' information. During this time, students will be expected to use their diaries for their assessment dates and, most importantly, will take assessments home to be signed by parents.
What can I expect when SEQTA Engage is released?
In the last fortnight of the term, parents will receive notification and instructions to login to SEQTA Engage. Engage can be accessed from a web browser or as an app for your phone or tablet. Once logged in, parents will be able to access their child's timetable, upcoming assessments and marks as well as the Interim Report at the end of the term.
The shift to SEQTA is a key step in our commitment to building ever stronger partnerships between teachers, students and families. As our implementation develops, the benefits to students will come through their engagement with their own academic progress and their use of feedback to improve their learning and achievement.